.tel Domain Management
Managing your .tel web address through all phases of the Domain Name Lifecycle
The .tel Domain Lifecycle
Anyone interested in registering a domain name will need to learn about the Domain Name Lifecycle. The person or entity that registers a .tel web address is called the "user" or "registrant". You can only register a .tel web address through an accredited domain registrar or a reseller of an accredited partner. The .tel Registry does not currently offer services to register .tel domain namess directly to the public.
It is important to know that when you register a .tel web address, you do not actually "own" the domain. Instead you have secured the right to register (or lease) the domain name for a period of 1 to 10 years, and you will have the opportunity to renew the name prior to its expiration. .tel domain names go through 4 different cycles of ownership:
By understanding the lifecycle of a .tel domain name it is possible to regain a domain name that may have accidentally expired, or grab a domain name that has recently been deleted or "dropped".
Here's how it works: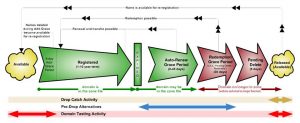 (Source: ICANN)
.tel Registration
All domain names start off in the same way – they are all available for registration. First, you contact your favorite domain name registrar or reseller ("Retailer") to see if your selected .tel domain name is available. If you do not have an existing preferred domain name Retailer, you may view our accredited registrar partners to find one, or use our .tel domain search tool. When you type the name you want into the domain search box, your Retailer will confirm whether the name is available by checking the .tel Registry's WHOIS database.
If the domain name is available, the Retailer can register it at your request and on your behalf and the domain name will be added to the authoritative .tel Registry database. If the domain name you want is not available, you can continue to search for other options until you find the perfect domain name to suit your needs.
.tel web addresses:
may be registered by any individual, business or organization
may be registered for 1 to 10 years
can be registered with as little as 1 and up to 63 characters (before the "dot")
may have a minimum of 2 nameservers and a maximum of 13 nameservers associated with a domain (use of registrant desired hosting and nameservers approved as of 13 March 2017)
will be subject to the .tel Registration Rules and Acceptable Use Policy
.tel Renewals
Domain names are subject to renewal to ensure that names no longer wanted are removed from the registry database and become available for others to register and use. .tel domain names must be renewed upon their expiration with an official .tel Retailer.
Domain Name providers typically have different renewal notice policies, but most will contact you with a reminder via email within 30-90 days of the expiration of your .tel domain name. If you do not renew your .tel domain name(s) with your chosen registrar or reseller prior to the expiration date, the domain name will cycle through two key phases:
Suspension or Expiration Status for 1-45 days after the expiration date; and
Redemption Grace Period (RGP) for 35 days after an expired domain has been deleted by the Registrar if the customer has not renewed their .tel web address
Within each of these phases, your domain name can still be renewed. Please contact your .tel Retailer for additional pricing and policies around Suspension Status and Redemption Grace Period domain names.
.tel Transfers
If you decide you want to give away, sell or otherwise assign the rights of your .tel domain name to a third party, you will need to transfer the domain name. The same is true if you are dissatisfied with the services of one retailer partner and wish to switch your account to another one.
A .tel domain transfer can involve a transfer from one registrar or reseller to another one; or from one registrant (or legal entity) to another one.
You can only transfer your .tel domain name through a registrar or reseller. The .tel Registry cannot help you to transfer your domain names directly.
To perform a transfer to another registrar, you must have an Authorisation Code (Auth-Code). Auth-Codes are passwords for domain names to add an extra security measure to help to ensure the identity of the person or entity making the transfer request. The .tel Registry does not provide or confirm Auth-Codes for your registered .tel domain names.
The following rules apply to transfers of .tel domain names between registrars:
Transfers are not permitted within the first 60 days of registration
Transfers are not permitted within 60 days of a previous transfer
Successful transfers will result in a one-year domain name renewal registration.
Please check with your selected registrar or reseller for specific or additional transfer policies.
Expiring & Deleted .tel Domain Names
The .tel Registry works with all of our Retailer partners to ensure that they remind customers to renew their .tel domain names early. Even still, in many cases, domain registrants may intentionally let go of one or more of their registered .tel domains names; or may forget to renew one or more of their names. This is where "dropping domain names" come in.
A dropping domain is a domain that has gone through the full Expiration process and has entered a cycle called "Pending Delete" or the "Redemption Grace Period." Once a domain name enters PendingDelete, it will automatically be released (or "dropped") from the system after thirty-five days and become available for re-registration.
Many Retailers provide services and support for dropping domains. Please check with your preferred provider regarding the use of a Backorder service or service that will help you secure a soon to be dropped domain name. A backordering (or domain dropping) service is an automated system that attempts to register an expiring domain for you the instant it becomes available.
Get your .tel today!
Enter the .tel domain name you'd like to search for below.